KSD offers a newly-evolving fiber optic cable installation technique known as air-blown fiber. Air-blown fiber (ABF) is an ideal solution for time-critical and/or challenging data cable installations. Air-blown fiber also reduces future expansion costs and installation time by laying a foundation where additional fiber cables are added to an existing containing cable more efficiently.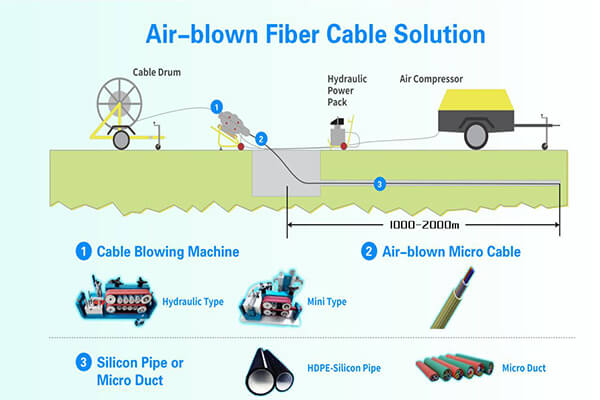 The tubes come in many designs with single or some number of tubes inside a single jacket. Cables of tubes are installed like regular cables, meeting usual building codes. Couplings provide connections between tubes for longer runs or branching. Boxes of various designs allow routing tubes or terminating fibers. ABF has been used indoors, on ships, outdoors including FTTH or practically anywhere conventional cables are used.
Since ABF can be used almost anywhere conventional cables can be used, the tubes must be designed for the same environmental requirements as regular cable. Indoor cables must meet appropriate fire codes and outdoor cables must be designed to prevent moisture damage. And since air pressure is being used to install fibers, the tubes require connections that seal properly to maintain air pressure along the path.
The advantages of ABF are predicated on the installation of an adequate number of tubes initially. Generally, an ABF tube bundle will be larger than a equivalent conventional fiber optic cable and have a larger bend radius, so the cable plant design must take this into account. The cost variable of air-blown fiber vs. conventional fiber optic cables depends on the application and plans for the future. It may be more expensive in the beginning but less expensive to expand the number of fibers or change the fiber types.