GYXTW is an outdoor use optical fiber cable suitable for duct and aerial applications. We supply GYXTW from 2 fiber cores to 24 fiber cores. Both single mode type and multimode types are available.
Applications
These central loose tube optical fiber ribbon cables are suitable for installation in aerial or duct environment for communication between bureaus, metropolitan network, access network and is especially suitable for the situation where high-density fibers is expected.
Features
Up to 24 fiber cores.
The loose tube is centrally situated with good excess length and minimizes the influence of lateral crush.
Double wire as strength member provides excellent strain
performance.
Product description
● The center loose tube protects the coated fiber once
● The optical fiber is concentrated in the center of the cable, and the strength members are distributed on both sides of the cable sheath
Features
● Small outer diameter, light weight, convenient construction
● Stable fiber excess length control
● After the cable is formed, the additional attenuation of the fiber is close to zero, and the dispersion value does not change
● Excellent environmental performance
Applicable laying
● Aerial laying
● Wear tube/blowing in tube
● Buried/underground
Structure
GYXTW structureGYXTW-12B1.3-7
● The central loose tube protects the primary coated optical fiber
● The optical fiber is concentrated in the center of the cable, and the reinforcements are distributed on both sides of the cable sheath
● Water blocking layer is provided between the steel belt and the cable core
● Double-sided plastic-coated corrugated steel belt -Polyethylene bonded outer sheath
● Double steel wire parallel reinforcement
Performance characteristics
● Excellent water blocking layer, with good anti-seepage ability
● The outer sheath of steel tape is bonded and metal reinforced, with excellent tension performance
● The central design of the beam tube minimizes the influence of the optical fiber on the anti-lateral force of the optical cable
Note: It can be designed in rows of non-metallic structures according to user requirements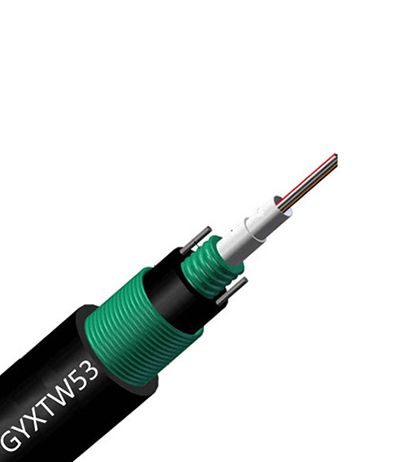 ---
Post time: Nov-23-2022