Product Detail
Packaging & Shipping
Product Tags
795 mcm acsr represents a standards. It belongs to ACSR-ASTM-B232. ACSR 795 mcm contains six code names. They are: Term, Condor, Cuckoo, Drake , Coot and Mallard. Standard divides them into 795 acsr. Because they have the same aluminum area. Their aluminum area is 402.84 mm2.

Application: This wire is suitable for use in all practical spans on wood poles, transmission towers, and other structures. Applications range from long, extra high voltage (EHV) transmission lines to sub-service spans at distribution or utilization voltages on private premises.   ACSR (aluminum conductor steel reinforced) has a long service record because of its economy, dependability, and strength to weight ratio. The combined light weight and high conductivity of aluminum with strength of the steel core enables higher tensions, less sag, and longer spans than any alternative.  
Applicable Standards:  
- ASTM B-232: Concentric Lay Aluminum Conductors
- ASTM B-230: Aluminum 1350-H19 Wire for Electrical Purposes
- ASTM B-498: Zinc Coated (Galvanized) Steel Core Wire for ACSR  
Construction: A solid or concentric stranded central steel core is surrounded by one or more layers of concentric stranded aluminum alloy 1350. The wire is protected from corrosion with a zinc coating.
Item Drake Mink Details:
Code name

Drake

Area

Aluminum

AWG or MCM

795.000

mm2

402.84

Steel

mm2

65.51

Total

mm2

468.45

Stranding and diameter

Aluminum

mm

26/4.44

Steel

mm

7/3.45

Approximate overall diameter

mm

28.11

Linear mass

Aluminum

kg/km

1116.0

Steel

kg/km

518

Total.

kg/km

1628

Rated tensile strength

daN

13992

Maximum D.C. Resistance at 20℃      Ω/km

0.07191

Cuttent Rating

A

614
---
Previous:
ACS Wire Conductor
---
1-5KM per roll. Packed by steel drum . Other packing available according to client`s Request.
Sheath Mark:
The following printing(white hot foil indentation)is applied at 1meter intervals. a. Supplier: Guanglian or as customer required; b. Standard Code(Product Type, Fiber Type,Fiber Count); c. Year of manufacture: 7 years; d. Length marking in meters.
Port:
Shanghai/Guangzhou/Shenzhen
Lead Time:
| | | |
| --- | --- | --- |
| Quantity(KM) | 1-300 | ≥300 |
| Est.Time(Days) | 15 | To be begotiated! |
Note:
The Packing standard and details as above is estimated and final size & weight shall be confirmed before shipment.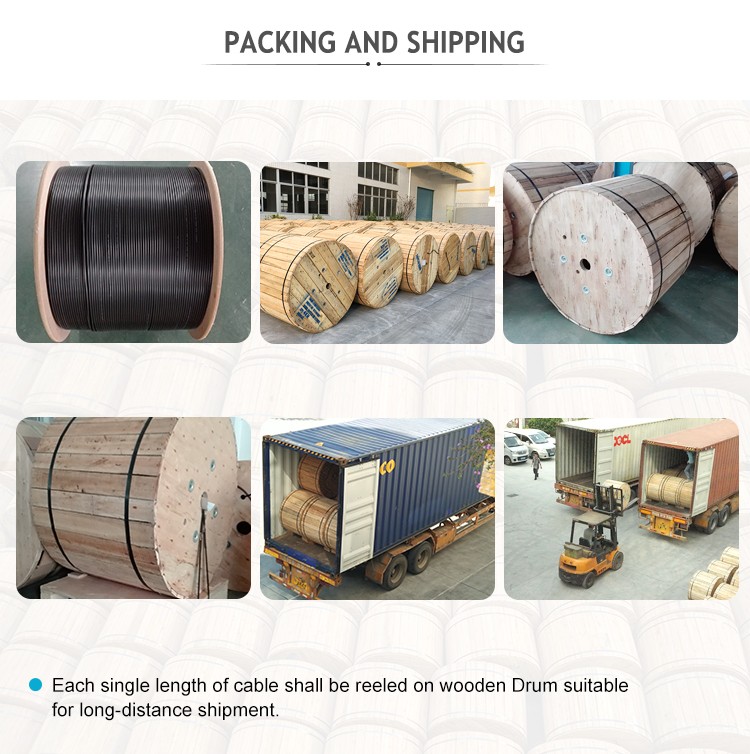 The cables are packed in carton, coiled on Bakelite & steel drum. During transportation, right tools should be used to avoid damaging the package and to handle with ease. Cables should be protected from moisture,kept away from high temperature and fire sparks,protected from over bending and crushing,protected from mechanical stress and damage.